Global Vertical Take-off and Landing (VTOL) UAV Market Research Report Information by Platform (Commercial and Military), Type (Fixed-Wing and Multi-rotor), Propulsion System (Electric, Solar, Hybrid, and Others) and Region– Forecast till 2023
Market Highlights
VTOL UAV defined as an aircraft that can take off and land and able to perform maneuvers. The demand for VTOL UAV is growing at fastest rate in emerging market owing to rise in combat operation in Korea, Iraq, and Afghanistan and are known for their cost effectivity equipment for security systems.
Presently, North America is dominating the market as it is the largest defense spender. Europe is expected to account for the second largest market share during the forecast period.For instance, in year 2018, Martin UAV LLC signed a contract with Naval Air Systems Command to developed the autonomous landing capability of V-BAT, that is known as VTOL UAV. The global VTOLUAV market is expected to witness ~15.0% CAGR during the period from 2018 to 2023.
The key drivers for global VTOL UAV market inlcude focus on enhancing UAV propulsion system, increase in demand for commercial purposes, , and focus on enhancing situational awareness. Other key factors that drives the market growth are rising terrorist activities, and robust technological growth in aerospace sector.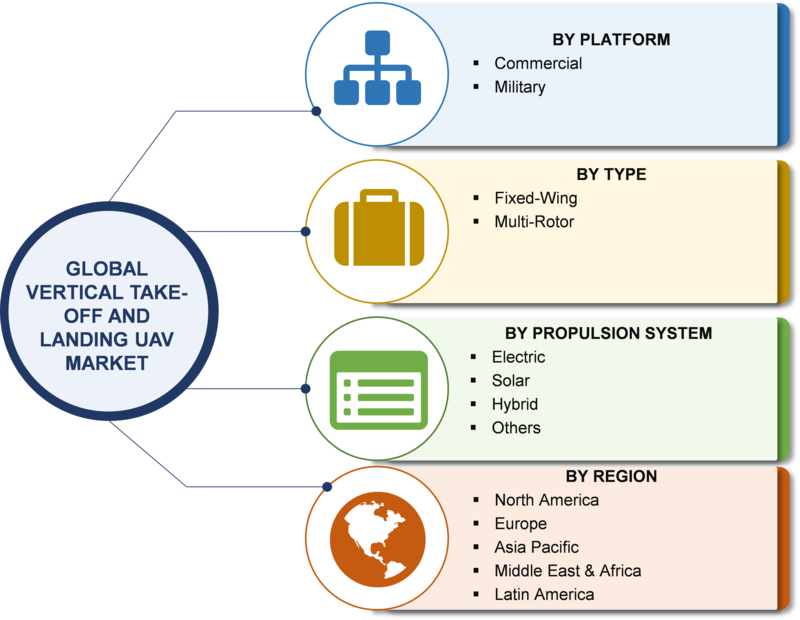 VTOL UAV Market | MRFR
Scope of the Report
This report provides an in-depth analysis of the global VTOL UAV market, tracking four market segments across five geographic regions. The report studies key players, providing a five-year annual trend analysis that highlights market size, and share for North America, Europe, Asia Pacific (APAC), Middle East, Africa and Rest of the World (ROW). The report also provides a forecast, focusing on the market opportunities for the next five years for each region. The scope of the study segments the VTOL UAV market by construction platform, type, propulsion, and by region.
By Platform
By Type
By Propulsion
Electric
Solar
Hybrid
Others
By Regions
North America
Europe
Asia Pacific
Middle East and Africa
Latin America
Key Players
The key players in the global VTOL UAV market are Northrop Grumman Corporation (U.S.), DJI Innovations (China), Lockheed Martin Corporation (U.S.), Israel Aerospace Industries Ltd. (Israel), Schiebel Elektronische Gerate GmbH (Austria), AeroVironment, Inc. (U.S.), Saab Group (Sweden), Textron Inc. (U.S.), The Boeing Company (U.S.), and Turkish Aerospace Industries, Inc. (Turkey).
Based on region, North America accounted for the largest share in the global market in year 2017 as the U. S. Navy is engaged in the development of VTOL UAVs, which can be integrated with the naval fleet for sea-based surveillance. In addition, the region is engaged in the development of multipurpose VTOL UAVs for various land-based military operations, to provide strong support to the armed forces. It leads the global market in terms of expenditure and technological advancements and has deployed several drones. The U.S. generates a very high demand for drones used for surveillance purposes.
---
Tags: VTOL UAV applications, VTOL UAV, VTOL UAV Market, VTOL UAV Market size, VTOL UAV Market share, VTOL UAV Market growth analysis, VTOL UAV Market competitive players, VTOL UAV Market business trends, VTOL UAV Market research, VTOL UAV industry analysis, VTOL UAV Market net worth, VTOL UAV Market sample report